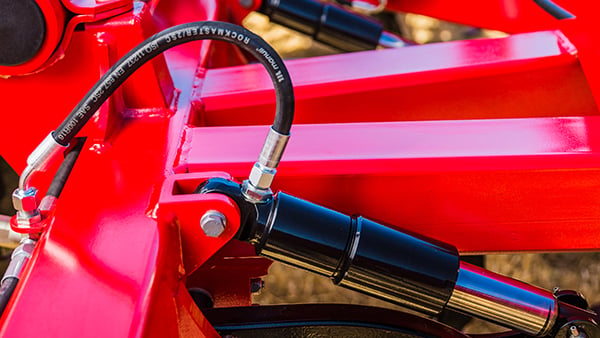 Effective reconsolidation
The new adjustable packer double SteelRunner offers full depth reconsolidation.
- Double SteelRunner, which creates a very effective reconsolidation and clod breaking, is a very interesting complement to the other packers. Because of the design of the packer the soil dries up faster, thereby allowing the farmer to quickly go out on the field for the next operation, says Mattias Hovnert, and continues:
- Furthermore, the open design of the packer results in minimized bulldozing and a low draught requirement.
The next generation TopDown is in production from October, and the new packer option double SteelRunner will be available in the first half of 2017.

The next generation is on production from October and the new packer option double SteelRunnre will be available in the first half of 2017.
Product family TopDown
TopDown is a robust multipurpose cultivator for both shallow and deep cultivation, as well as reconsolidation in one pass. The three individually adjustable working zones gives the possibility to adapt the working result to different conditions. TopDown 300-900, which has 12.5cm disc spacing, 27cm tine spacing and an adjustable hydraulic stone release up to 700kg, can cultivate down to 30cm depth. With DeepLoosening points the depth increases to 40cm. TopDown 300-900 is available in working widths from 2.65 to 9.10m. When folded the transport width of TopDown 300-700 is 3.0m, while TopDown 900 have a transport width of 5.0m.