In Finland the machine journal Koneviesti tested a number of seed drills over a 10-year period (2006–2015) for direct drilling in large plots at an agricultural college outside Turku. The results clearly show which seed drill offers the most stable results and the highest net yields over a whole decade.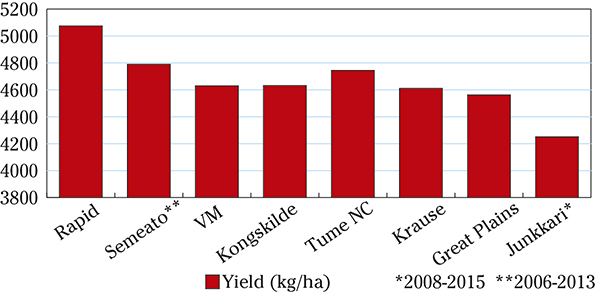 Medal 8 years out of 10
Over the 10 years during which a mixture of autumn and spring cereals, peas, field beans and spring oilseed rape were cultivated, it was Rapid that distinguished itself. In 8 of the 10 years Rapid brought medals home – 5 gold and 3 silver. The remaining 2 years Rapid came in 4th, just off the podium. Rapid performed consistently well every year without falling through at any point. This direct drilling trial in Finland thus demonstrated that Rapid offers a high chance of plants growing.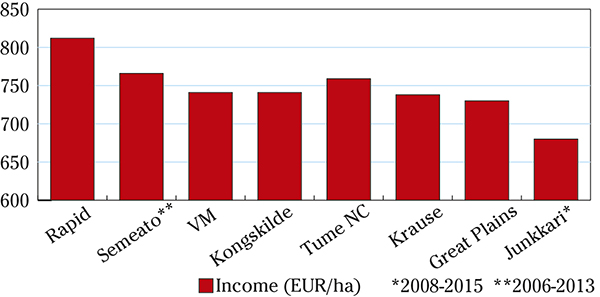 Highest income over 10 years
Over the 10-year period 2006-2015, Rapid as the only seed drill produced over 5000 kg per hectare. That is actually just over 400 kg more than the average performance of the 5 other machines that were also in the trial over the same period. Converted into monetary terms, this extra harvest using Rapid means extras income of EUR 70 per hectare at an average price of EUR 160 per ton. Seen over several years and many hectares, the extra income constitutes a significant contribution to the coffers for growers who choose Rapid as their seed drill and partner for spring and autumn cultivation.
On its CV
The direct drilling trial is now ending after 10 years in the form it has taken up to now, but in future there will continue to be establishment and soil cultivation method trials on the same test plots. With 10 years' experience, we can in any case be sure of one thing – direct drilling is now also documented on Rapid's CV.