Things are going well for the Östergötland-based family owned company Väderstad, which is a global leader in tillage and drilling, with over 1,500 employees around the world. The company is continuing to expand, and in the past year alone has taken on 100 new employees. The 'Employer Branding Company of the Year' award is given to companies that actively involve their entire organisation in employer branding issues and offer good career and development opportunities.
- "Naturally we're very excited about this award. We are a growing company with a high pace of innovation. Our ambition is for more potential employees to discover what an exciting workplace Väderstad is, with a good mix of entrepreneurship and technical challenges, as well as great opportunities for development," says Annika Franzén, Vice President HR at Väderstad.
The justification for the award from Universum's jury reads: "Väderstad has a strong focus on Employer Branding issues, an approach that is actively supported by the management team. With a long tradition in this field, they are one of the companies in Sweden that has worked the longest on such matters. In their work on the issues of attracting employees, they demonstrate a broad range of opportunities for potential employees within the company. Väderstad has shown an exciting mix of cutting-edge innovation and a focus on sales and marketing, and is considered by many to be a role model."
Sweden's best employers
The national poll 'Sweden's best employers' is conducted annually by Universum. It gives employees a chance to evaluate their employer based on different criteria and characteristics they associate with the company, for example meaningful purpose and innovation. In this year's poll, Väderstad has climbed from 18th place to 15th.
Linnéa Danielsson, Support Manager at Väderstad, describes how she perceives her job:
- "Väderstad is a family owned company that cares for its staff. There is a great commitment here and you feel seen. I am incredibly proud of the products, although I myself do not have a farming background."
Väderstad a career company 2020
The fact that Väderstad is one of the most attractive employers for students and professionals is also confirmed by the company, for the fifth consecutive year, receiving the 'Sweden's Career Company 2020' seal of approval, for the reasons outlined below. This honour is awarded annually to 100 employers in Sweden.
"Thanks to innovative and committed employees working in an informal work environment, we can see that Väderstad is wonderfully successful in its work on Employer Branding. With a positive influence on and passion for its employees, Väderstad is hereby named one of Sweden's career companies for 2020."
Meet some of Väderstad's employees from around the world: https://www.vaderstad.com/en/about-us/join-vaderstad/meet-our-employees/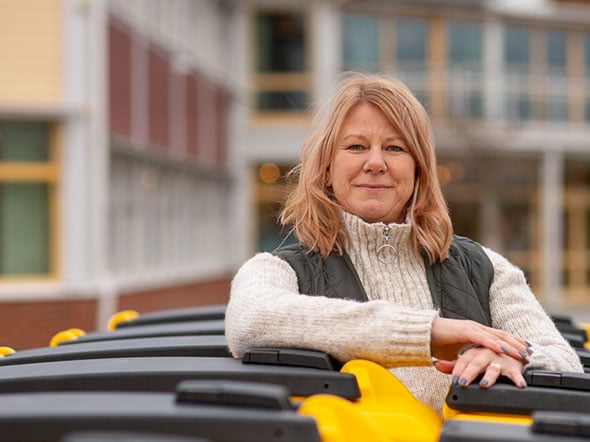 Susanne Dalskog
Vice President Communication