- "We spotted potential in this rather absurd situation. We made use of this difficult situation and worked hard to produce a new concept. Our primary motive was to find a way to help farmers reduce their costs and make their farming activities more efficient. A difficulty overcome that became an asset," says Crister Stark.
Following the election in autumn 1991 there was a change of government, but it wasn't until 1995 that Sweden joined the EU, which was creating requirements that improved conditions for Swedish agriculture. The consequence was new rules and economic conditions that made things easier for farmers.
But the story of Väderstad's seed drills for direct drilling began much earlier. During the 80s Crister Stark and Gert Gilstring worked on the direct drill. Even back then one of the main reasons was to find more cost-effective cultivation methods, which was, among other things, strongly linked to fuel prices.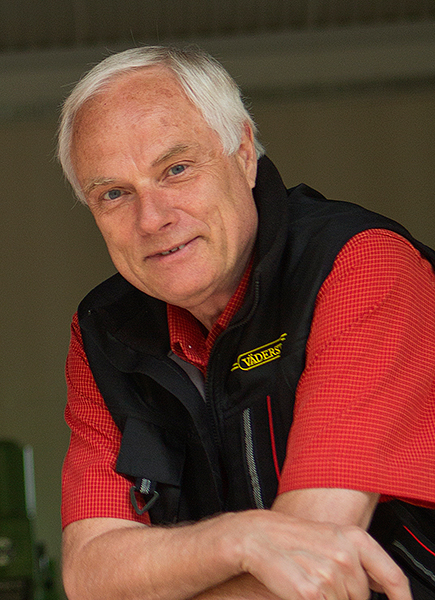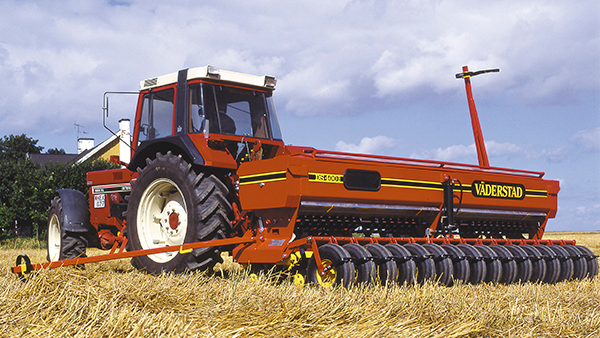 It can be risky to drill with crop remains still on the ground, not least because of slugs. So here in the Nordic region, where drilling takes place predominantly in the autumn, people did not immediately see the possibilities, but then arose a wave of interest in direct drilling on the part of farmers.
- "They liked these machines that drilled the perfect depth and also instantly pressed the earth down over the seed with their wheels. They came to call the direct drill their universal machine," says Crister.
Rapid is just right for agronomy
The primary advantage of the Rapid machine is that it reduces costs but is nevertheless just right for agronomy. It is suitable for pretty much all soil types, and the ground does not need to be prepared. This makes it an incredibly cost-effective machine. Even if the ground is hard, the disc moves with the help of its rubber suspension straight into the soil. It is the wheel behind that guides the disc and also presses down the furrow.

- "Farmers were defeated at the start of the 90s. We realised that the only thing we could sell in future was something that would help them to improve and be more efficient. We took the best from the direct drill, especially the seed coulters, and developed it further until it later turned into Rapid. We produced bigger wheels and developed the combi system for fertiliser. We changed most things but kept the supporting concept from the direct drill," says Crister.
We also brought in effective soil cultivation using CrossBoard - an invention that changed agriculture. The machine had such excellent features that the drilling speed could be doubled. In spring 1991 50 Rapids were sold. 25 years later almost 25,000 have been sold.

- "Of course, there were some problems to begin with, but we battled on and solved all our difficulties, making farmers very happy," says Crister.
Today Rapid can be found in 40 countries
Being able to drill under different conditions without preparatory soil cultivation meant that a new era opened up for farming. At Väderstad they worked constantly to improve and refine their products, and there was great demand for a bigger pneumatic Rapid. An international market soon opened up.
The German company Accord had a pneumatic system. Crister got in touch, and, somewhat unwillingly, the Germans agreed to meet up. The visit went well and Crister brought the system home with him.
- "There was huge development potential in pneumatics and we began to design a machine that could be folded up to a width of three metres for transport purposes. Optimism among the farmers had increased with the decision to join the EU at the same time as the machine appeared. The situation became much better in general," says Crister.
Finland also became a big and important market for Väderstad, but like Sweden, it occasionally had difficult economic periods due to currency issues and devaluation.
-"Later we started in the UK. We got off to a fantastic start there. We expanded our production, we built three and four-metre machines and pneumatic machines up to eight metres, side by side, on two lines. Gradually we started up in France and then we took country after country."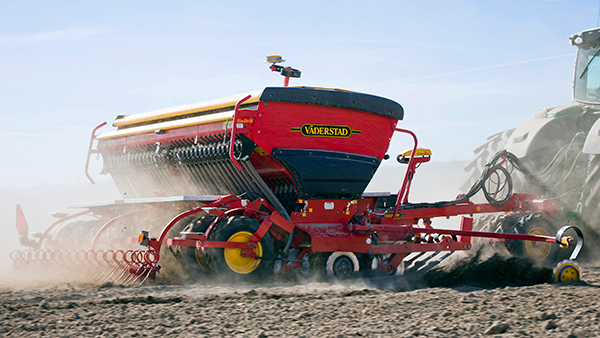 Rapid is iconic
Rapid is a robust and sustainable machine that helps farmers streamline their agricultural activities through reduced effort and improved harvests. It offers a very high chance of plants growing regardless of the season. With Rapid the farmer can drill twice as fast as when using conventional drilling and soil cultivation. In parallel with this, tractors have been developed and technical developments have gone well.
- "I think that the machines will get bigger and bigger and that we will broaden their application. But their original versatility, quality and reliability will always remain. There is also good demand for used Rapids; Rapid is just getting bigger and bigger," says Crister.
At Väderstad they say that it is the power of innovation that creates their success. There is now yet another version of Rapid using new technology, new IT features, new maintenance-free bearings and so on.
-"We were also the first to use E-Control, which, using an iPad as the only control unit, now opens up a whole new market. Our competitors said "that will never work", but they were wrong. The iPad communicates wirelessly with the drill's Gateway and is absolutely superb in its simplicity and user-friendliness. A system pretty much without limitations," says Crister.
Rapid may be compared with Bahco's adjustable spanner or Lockheed's Hercules aircraft, i.e. a concept and quality that stands the test of time and can be constantly developed.
- "As long as we can see ahead, we can improve the concept further. We already have a number of ideas for increasing precision and making it even more attractive to our customers, and they support us in our work. Some products are immortal, Rapid is iconic," concludes Crister.