- Because the FH 2200 is equipped with two electric Fenix III feed systems, an energy efficient metering and very precise fertiliser distribution is ensured. Together with its highly effective hydraulic fan, the FH 2200 ensures an even fertiliser distribution also at high speeds on the field, says Jörgen Dahl, product manager for planters at Väderstad, and continues:
- FH 2200 thereby delivers a measure of fertiliser distribution that takes full advantage of the capacity of the Tempo planter.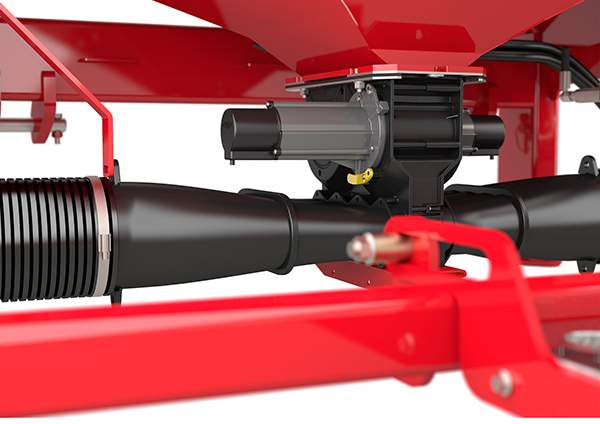 The front hopper FH 2200 is mounted to the front linkage of the tractor. When the fertiliser have been metered out via the two Fenix III metering units, the fertiliser is transported back to the planter through a transport tube.
When reaching the planter, the air transport is directed into a distributor head, which evenly distributes the fertiliser to the fertiliser tubes that finally takes the fertiliser to the fertiliser coulters.
The distributor head on the planter can be factory fitted on Tempo V and Tempo R, or be ordered as an adjustable mounting kit for other planter models.
- When FH 2200 is operated together with a Tempo, it connects to the gateway on the planter. Thereby, both FH 2200 and the planter are operated with the iPad-based control system Väderstad E-Control or the ISOBUS-terminal of the tractor. As an option FH 2200 can be operated via a ControlStation and a separate ground radar, says Jörgen Dahl.
The design of the front hopper with a sloping front, gives the driver good visibility. The wide opening makes it easy to fill. The new front hopper Väderstad FH 2200 equipped with the metering system Fenix III will go into production in the beginning of 2017.