The packer rings of SoilRunner are constructed with a u-profile, which are designed to be filled with soil. Thereby the packer uses the "soil on soil method", and the result is a cultivated open surface.

– The soil on soil method is rooted in a strong customer demand of a packer that gives a good structure in light soils, without bulldozing. Additionally, SoilRunner offers the possibility of working the fields also in wet conditions, says Bernt Mårtensson, concept developer at Väderstad.
Since the u-profile of the packer is filled with soil, the wear is reduced.

– Single SoilRunner, which has a diameter of 575mm, has 30% lower weight than the steel packer SteelRunner. Thereby single SoilRunner requires a lower lifting capacity from the tractor, while also keeping the good working results of Carrier X in the field, says Bernt Mårtensson.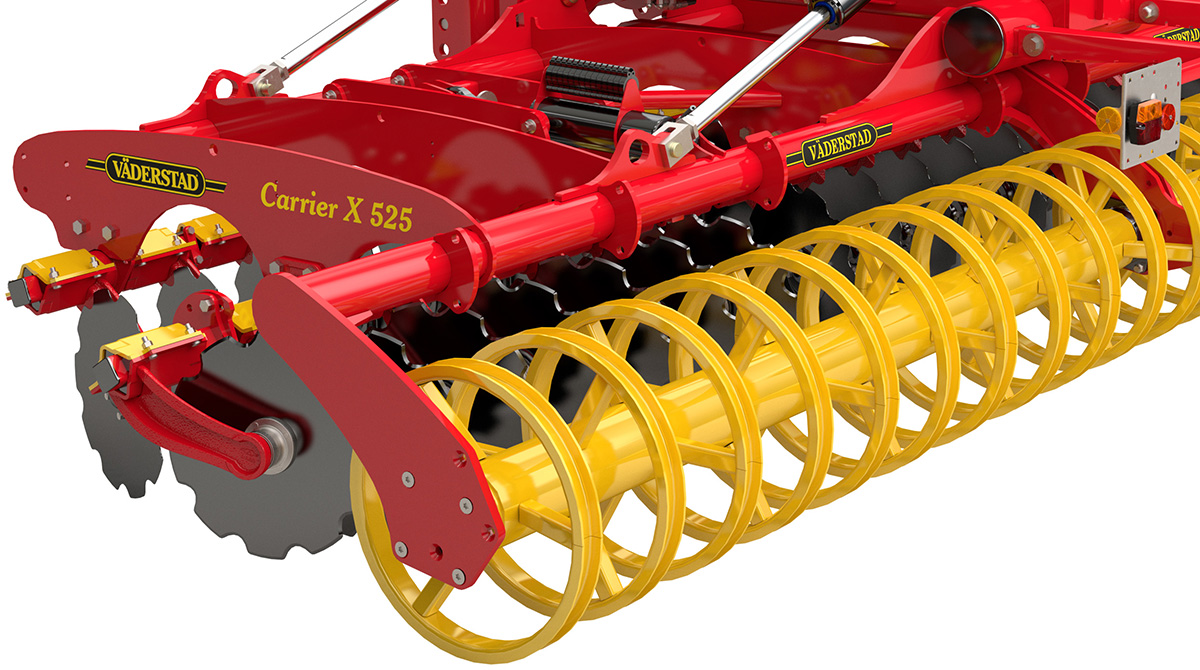 Wider usage
Over the years, the effective disc cultivator Carrier X have been refined and further developed. One of the latest additions is the 470mm discs TrueCut 470 which, because of its conical shape and milled cut-outs, keeps an aggressive penetration over time.

– By equipping Carrier X with TrueCut 470 discs as well as single SoilRunner packer, you get an aggressive disc cultivator that handles large amounts of residues, with a low draught requirement, says Bernt Mårtensson.
Carrier X 425-625 can be delivered with the single SoilRunner packer from year model 2017.
Product family Carrier X
Carrier X is a mounted foldable disc cultivator that combines versatility with high capacity and performance. The machine is designed for high speed shallow cultivation and effective stubble mixing down to 10cm. Carrier X can be fitted with either 45cm discs with small notches or 470mm TrueCut discs, and is available in working widths 4.25, 5.25 and 6.25m. When folded the transport width is 2.4m.