What is unique about this?
1.Two options for fertiliser placement, FIX or Nordic
2.Spirit 800-900C has a high capacity, with fertiliser application rates of up to 400 kg at 14 km/h
3.These models can also be equipped with a BioDrill for sowing ley
"This machine features a number of upgrades, such as a new distributor head for greater precision, a new hydraulic support leg for simple, safe hitching, and a hydraulic centre cradle with adjustable pressure for optimal reconsolidation between the tractor wheels. The machine manoeuvres incredibly well and can easily be adapted for different soil types," says Bernt Mårtensson of Väderstad.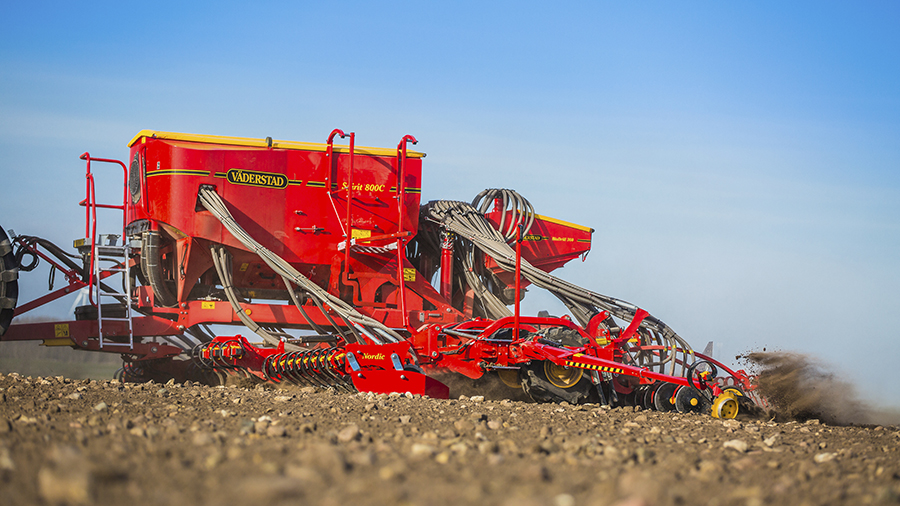 FIX or Nordic
Spirit 800-900C is unique because there are, among other features, two different fertiliser coulter systems to choose from. With Spirit 800-900C FIX, the fertiliser is placed behind each disc on the System Disc Aggressive toolbar at a row spacing of 12.5 cm. With Spirit 800C Nordic, the fertiliser is distributed using a single disc coulter at a row spacing of 25 cm. The row spacing for seed is 12.5 cm for both the Nordic and FIX models. Spirit 800-900C can handle fertiliser application rates of up to 400 kg/ha, working at a speed of 14 km/h.