Titan Machinery owns and operates a dealer network for agricultural and construction machinery in the USA and Europe. Titan Machinery has eight sales and service centres in Romania alone, and is currently planning to expand even further. Väderstad has already collaborated with Titan Machinery in Bulgaria for several years.

- Our collaboration with Titan has worked very well, so it seems only natural to continue our partnership along the same lines in Romania. Our products are well suited to their range and we can now offer customers a comprehensive nationwide service network. We want to be close to our customers, so an effective supply chain is very important to us, says Mattias Hovnert, Sales Director for Väderstad AB.

- The recent partnership between Titan Machinery and Väderstad in Romania is in line with the common goal of both companies, to increase the market share in Romania, while providing best in class solutions to our customers, says Manfred Spendier, CEO Titan Machinery in Romania.
Väderstad will continue to employ representatives at many locations throughout the country, but distribution will be handled by Titan.

- Thanks to our successful six year working in Romania, we can now take the next step forward by working with Titan. Our goal is to double our current turnover, says Mattias Hovnert.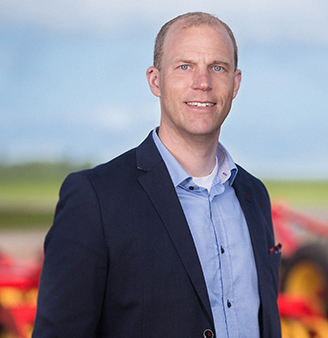 High demand
Väderstad expects that high demand will continue for many of their key products, such as Tempo, Rapid, Carrier and TopDown. Titan is particularly enthusiastic about the 6-12 metre segment for the Romanian conditions, since more and more farmers are investing in tractors within the higher horse power range.
- The cooperation between Titan Machinery Romania and Väderstad will give the farmers in Romania the advantage to obtain two strong agricultural brands from one hand, with the incontestable benefit of having services, parts and financing support, all at high standards.