As the demands for precision, and the need for simulations and testing increases Väderstad opened up a newly built modern seed lab in 2016. The new seed lab offers the possibility to recreate different environments and simulated field conditions, with a varied affect from workloads, heat, cold, air pressure and so on. Moreover there are rigs for durability and extensive quality testing.
Innovation is to be first
In 2015 Väderstad was listed at an impressive 24th place in the list of Swedish companies applying for most international patents. Ola Byström, head of patents at Väderstad, said "We place a high priority on applying for patents for inventions which markedly improve and simplify the daily work of farmers, often through rationalising arable technology and improving its cost-effectiveness."
Rapid - Rebirth of a legend
In 2015 Väderstad rolled out a new generation of the legendary seed drill Rapid. The machine was reborn to suit modern agriculture. The new Rapid 300-400C/S has a new design, with a more streamlined hopper that is raised slightly above the chassis, increasing access to the machine. This, together with greaseless hubs, makes it easier to service and use, while freeing up more time for work in the field.
Tempo sets new record with sunflower
n a 24-hour race on 4 April 2014, a Tempo R 12 drilled 306 hectares of sunflower at an average speed of 19 km/h. The Väderstad Tempo race was held near Pleven, north of Sofia in Bulgaria, together with Väderstad's Bulgarian import agency Titan Machinery.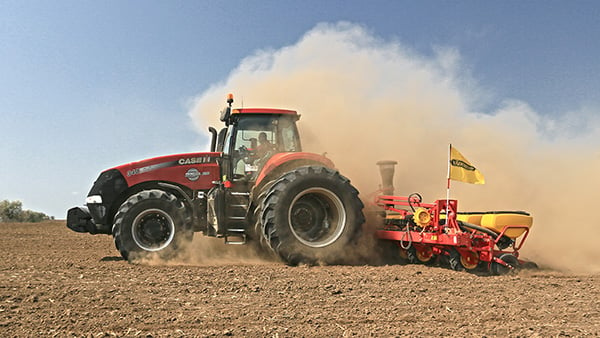 Opening of new production hall
In the fall of 2013 Väderstad introduced E-control, which is an application that you download to an iPad. The application provides an easy way of controlling Väderstad planters and seed drills. E-control allows you to control all functions of the machine in an extremely user-friendly manner. Controls included are adjusting seed metering, tramlining, calibration and logging data & events, for example.
In the spring of 2014 Väderstad opened a new 780 square metre production hall. The new building doubled the size of the research and development workshop and allowed 6-7 prototype machines to be built at a time.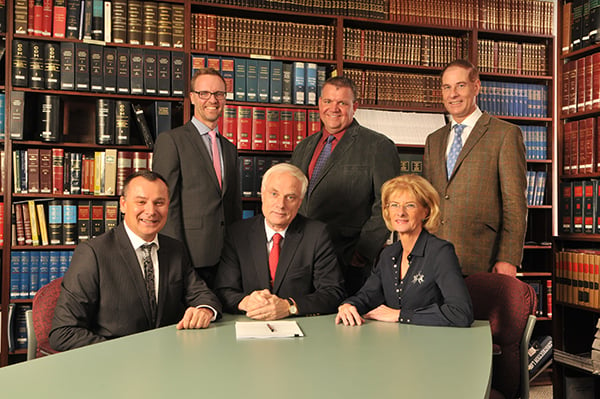 Väderstad acquired the Canadian company Seed Hawk in 2013
During 2013, we bought over the Canadian company Seed Hawk, which manufactures large direct seed drills. With this acquisition, Seed Hawk has become Väderstad's platform for development and sales in North America. The partnership with this company first began in 2006, when Väderstad became part-owner.

Largest investment in production to date during 2013
In order to meet increased demand, we are carrying out major rationalisations and efficiency improvements. In total, we have invested almost 150 million Swedish crowns. At Väderstad, this means a new internal logistics centre for production, a new large 3D laser cutter for pipe, new automated equipment for welding and preparation of row aggregates for the Tempo seed drill and an upgrade to our painting department.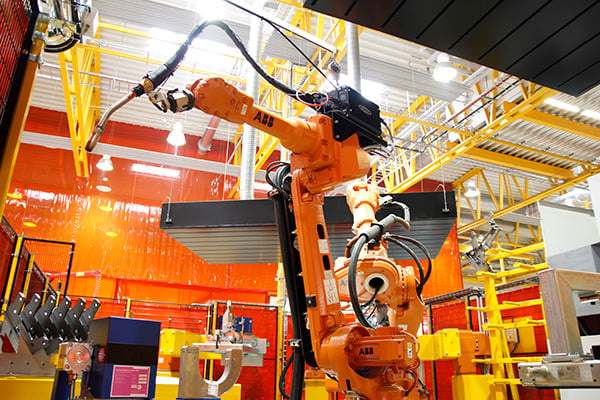 "This is the first time the company has invested so heavily in production in a single year. These changes are essential in order to eliminate bottlenecks and to ensure the future manufacturing of Väderstad's new Tempo 'planter', which is designed for drilling e.g. maize", said Andreas Stark, Production Director.
A 6000-square metre internal logistics centre for production was the single largest investment in 2013. The centre has double the capacity of the current logistics unit.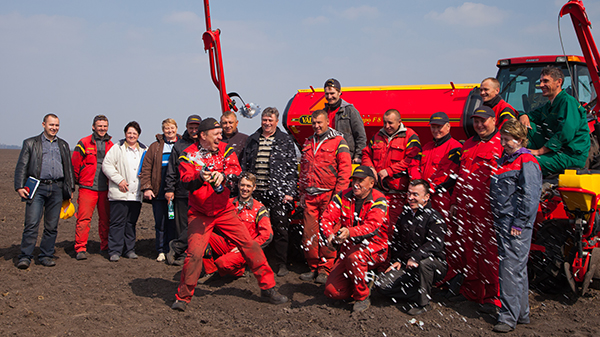 Tempo sets new record during a 24-hour race in Ukraine
In April 2013, the Väderstad Tempo F8 competed in a 24-hour race near Kiev, on the fertile black soils of this region.
An astonishing 212 hectares of maize were drilled at the high average speed of 18 km per hour. This represented a 42 per cent increase in capacity per row aggregate compared with the existing official world record, which was set with a 24-row planter in 2012.

Three drivers worked in shifts and emergence was exceptional in view of the high average driving speed of 18 km/h. In addition, the preparations for the event took less than 10 days. During the planning stage speed was an issue, which made the race results a surprise.
Investing in Lithuania
2013 saw the opening of a brand new centre in Lithuania, a service centre, parts depot and meeting place for Lithuanian farmers. The new premises are located north of Kaunas, in the middle of the country. To coincide with the opening, Väderstad celebrated the 10th anniversary of its presence in Lithuania.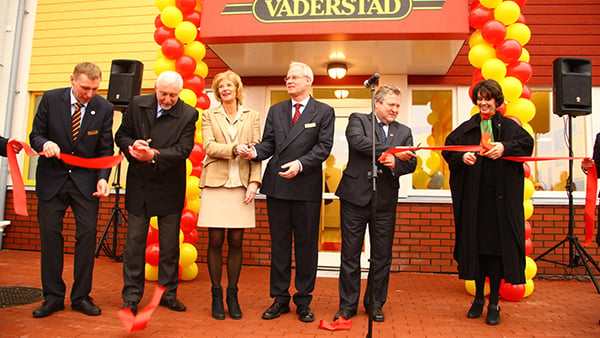 Expansion into new parts depot
In 2012 Väderstad invested in a new depot for wearing parts, spare parts and accessories. The new parts depot allows faster service and meets the needs and expectations of customers in a more efficient way. The new larger premises also contain space for a permanent exhibition of the Väderstad Parts range, and a shop where visitors can buy Väderstad merchandise.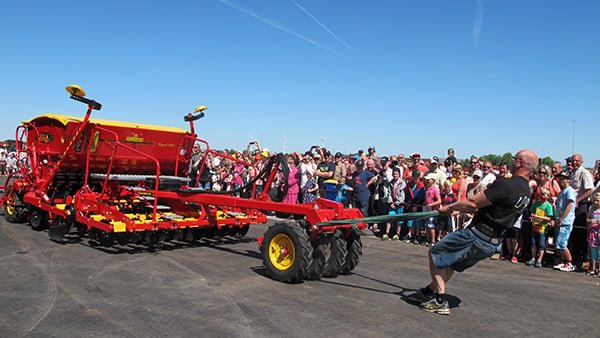 Our golden jubilee
In 2012, it was 50 years since Rune Stark developed the first harrow on his farm outside Väderstad. Since then, 'Rune's Mechanical Workshop' has become the global Väderstad concern and the local market has been expanded to more than 40 countries.
New subsidiaries in Denmark and Romania and sales in Africa
Väderstad has been active in Denmark since the 1980s through the import company Kverneland. Over the years Denmark had become an increasingly important market and in 2011 a decision was made to start a completely new sales subsidiary there. Romania's immediate future made it easy for us to decide to open a fully owned sales subsidiary there too. MD Mihai Rausser has gathered a very enthusiastic team in an office near Bucharest airport.
A new era of precision drilling
When Crister Stark visited Argentina in 2006, he got the idea of developing a Väderstad planter, or maize seed drill. It didn't take long before this idea was converted into a vision that was shared by all within the company. Simply making yet another planter was naturally not an option, so Väderstad decided to invent a planter with greater precision and capacity than ever witnessed before.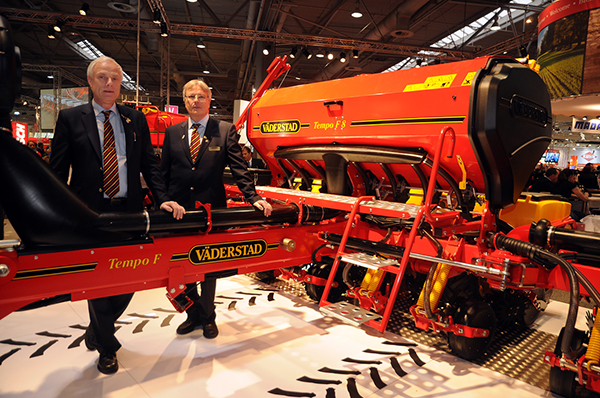 Five years of development work
It took five years before Väderstad was able to launch its first planter, Tempo. In fact, this proved to be the largest research and development project in the company's 50-year history.
What is a "planter"?
The term "planter" refers to a precision drill for crops such as maize, cotton and sunflower. These crops differ from cereals in that they need to be drilled with only 8-10 seeds per square metre, very evenly positioned and at the specific depth for optimum emergence and crop establishment. This is the unique feature of Väderstad Tempo – it can achieve this with high precision even at very high driving speeds.
The Gilstring seed meter
Gert Gilstring, one of the driving forces in the project, is very enthusiastic about the technologically advanced solutions and the end result – Tempo. The new seed metering system uses pressurised seed transport, which results in the Tempo drill being unaffected by slopes, vibrations and speed.
Africa is becoming a new market
Contact with farmers in South Africa was only established in 2010. However, this was not Väderstad's first visit to the continent. Rune Stark travelled to Kenya and Botswana on different development projects back in the 1960s. However, success with sales in North Africa did not come until much later.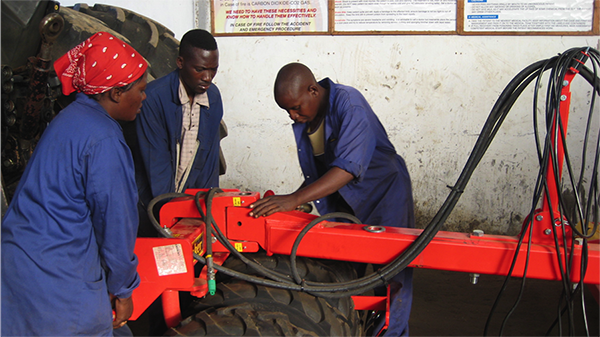 Väderstad's importer Vitamech is a distributor for machines throughout South Africa. In the provinces of Western Cape and Southern Cape the Seed Hawk direct drill is generally the most popular machine, but the Rollex roller and the Carrier cultivator are also very popular products. In 2012, Väderstad's unique new planter, Tempo, was introduced in the so-called maize belt in northern areas of South Africa. In a very short time this seed drill has attracted great positive attention among farmers and dealerships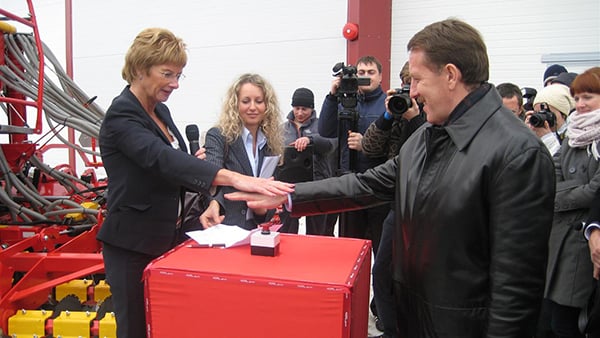 Väderstad starts up manufacturing in Russia
In 2010 Väderstad declared its commitment to Russia by starting to manufacture parts of the Väderstad product programme in Liski, in the Voronezh region. Manufacturing on-site for the Russian market is a way to enhance the company's position in this market. It also signals Väderstad's intention to have a long-term involvement in Russia.

Carrier 10 000 celebrated at Elmia exhibition 2010
Väderstad's success is largely based on the Carrier and Rapid machines. Carrier is a unique implement that can perform stubble cultivation, seedbed preparation, re-consolidation, rolling and surface levelling. At the Elmia agricultural machinery show in Jönköping, Väderstad held a ceremony in which Carrier 925 number 10 000 was handed over to Anders Henningson, who runs the company Agrotech outside Norrköping.